1. Our large Moso bamboo plantations support wide range of products
Having our own moso bamboo plantations ensures a predictable and consistent supply of bamboo shoots and bamboo trees. This enables us to broaden our product range from producing only processed spring bamboo shoots previously to our current products, include fresh winter bamboo shoots, spring bamboo shoots and mature bamboo trees (the latter are used in the furniture, textile, and paper and pulp industries). Part of the fresh spring bamboo shoots is supplied to our processed food segment as raw materials.
Our moso bamboo plantations enhance our revenue base in other ways. Firstly, harvesting of bamboo trees and winter shoots take place between July to December and January to April respectively. These 2 harvest seasons fill the off-peak season for shiitake mushrooms which are harvested in October to April. Secondly, moso bamboos are less affected by the extreme climate conditions experienced in recent years in the PRC.
Currently, we have a total of 129,696 mu of moso bamboo plantations.
2. We have a strong network of Japanese customers for our processed food products
We have been a supplier of high-quality processed food products to our Japanese customers for more than 10 years. Our well-established network of Japanese customers include Tennen Sozai and Fujimoto.
To verify that our products meet high standards in food quality required in local and overseas markets, we have received various certifications over the years, for instance, Organic JAS, HACCP, ISO9001, ISO22000 and Organic Products.
We always strive to strengthen our close relationships with our Japanese customers by maintaining constant communication and adapting to their specific requirements. To-date, our good reputation and strong relationships with our Japanese customers remain our competitive edge against our competitors.
3. Established supplier of self-cultivated edible fungi in PRC
We supply self-cultivated edible fungi and operate 519 mu of shiitake mushroom cultivation bases in Fujian Province, PRC. Apart from a few larger players, the cultivation of shiitake mushrooms in Fujian is fragmented, and is made up of many individual farmers and/or sole proprietors who operate on a much smaller scale.
With our integrated business model and institutionalized management structure, we are able to achieve economies of scale and to consistently meeting the needs of our customers with our high-quality shiitake mushrooms.
3.1. Exclusive 'win-win' arrangements for cultivation of shiitake mushrooms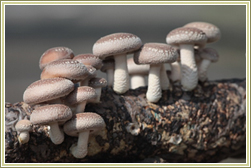 We have exclusive, long-term agreements with various Villagers' Committees representing individual farmers to lease their agricultural lands to cultivate our shiitake mushrooms. These lands are leased from late September to April of each year, which is the off-season for the cultivation of other agricultural products on the same lands.
During our harvest season, we engage the farmers to provide farming services, i.e. daily maintenance, harvesting, sorting and transportation of the shiitake mushrooms. This 'win-win' arrangement enhances the farmers' income while keeping our labour overhead low and variable.
This has enabled us to gain the trust and confidence of our customers and to differentiate us from the other reputable player in the market.
3.2. Better cost and quality control with securing of large eucalyptus plantations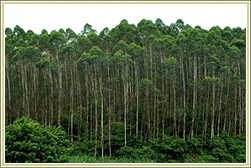 Our synthetic logs made of eucalyptus sawdust from our own eucalyptus plantations allow us to reduce and better manage our cultivation costs and ensure the reliable supply of synthetic logs.
4. Strong R&D capabilities and partnership with Research Institutes
In 2008, our joint research with the Mycological Research Centre of Fujian Agricultural and Forestry University produced a new strain of mycelia that is suitable for growth on synthetic logs made from eucalyptus sawdust.
Eucalyptus synthetic logs have lower cost than the traditional fruitex (杂木) synthetic logs. At the same time, eucalyptus trees mature in 5 to 7 years, which is generally shorter than many other types of trees.
Our other partnership with the Institute of Food Science and Technology of Fujian Agricultural and Forestry University achieved new products such as konjac instant drinks and konjac instant desserts.
5. Integrated demand-driven operations with cultivation, processing and sales capabilities
Yamada involves in wide ranging cultivation and processing capabilities allow it to meet its customers' requirements and market demand. This has also enhance our production efficiency, maintain a stable supply of products and establish better control our costs.